Baked two batches of cookies over the long weekend, as breaks from the essays I had to write.
The first was sadly a failure, the anzacs were too crisp and did not hold together quite as well as I might have hoped, so I shan't post the recipe for them until success is at hand.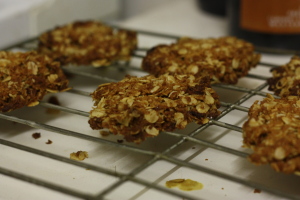 The second batch baked were the chocolate chip and walnut cookies from
Veganomicon
. I substituted nuttlex for the oil, and used slightly less vanilla, as I had read reviews beforehand that suggested an overpowering vanilla flavour. I also omitted the flax. I couldn't find my full cup measure, so I used what I thought was a half measure instead. It turned out, later, to be the one third measure, though aside from a slightly strong taste of vanilla essence, the batch worked out brilliantly. They were particularly delicious, and the next day they were chewy like eating cupcakes.