I heard of One World Cuisine some time ago when it first opened, but we didn't have a chance to visit until last weekend. I'd heard it was a cafe, and there might be vegan cakes involved, but it's clearly undergone a rebranding or change of purpose since then.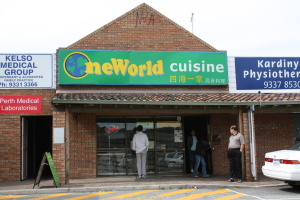 The door advertises
complimentary meals
, and inside is a small buffet of noodles and rice and Chinese curries, and like Annalakshmi, one pays by donation. An overhead projector played movies about climate change and vegetarianism and suprememastertv, and I was mildly skeptical, but the food was tasty and it was a fun trip South of the river.
The lack of vegan cakes was a disappointment, though.
One World Cuisine
Kardinya Park Shopping Centre
South Street
Kardinya