The wedding banquet is filled with superstitions and is steeped in tradition. It is customary to serve shark's fin soup, to demonstrate wealth. It is usual to serve noodles for longevity, and a whole fish to indicate abundance, and duck and pork and sometimes there are eggs involved.
Being vegan, we could not take the usual Chinese in Australia option, which is to enlist one of a handful of local Chinese restaurants kitted out for the eight or ten course affair. Faced with the alternative of catering it ourselves, we elected to employ the services of Lotus Vegetarian Restaurant.
The owner is a well-meaning but eccentric older Chinese lady. My first attempt at discussing a menu with her did not end well, so a few days later I returned with my mother in tow. The subsequent conversation, where we explained "gluten-free," and there was some confusion over the concept of not using soy sauce (as it contains wheat), took place almost entirely in Cantonese, and resulted in the construction of the following menu:


Yao Chao Guai and Prawn wrapped in tofu skin - a cold dish is a standard starter

Vegetable and Tofu Soup (gluten-free) - this was in place of a 'shark fin' soup, traditionally served to indicate wealth.

Sweet + Sour Fish - fish is traditionally served because 'fish' is a homophone for 'plenty'

Fried Rice (gluten-free)

Chicken Curry - a red chicken indicates 'good life'

Mixed Vegetables (gluten-free)

Char Siew Pork - pig is also traditional, though largely irrelevant nowdays

Mee Hoon (gluten-free) - noodles indicate longevity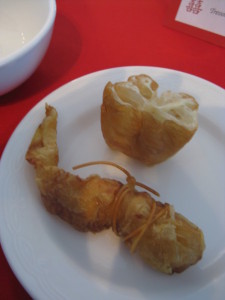 photo by Trev
Independent of the catering provided by Lotus, we also had fruit (as is traditional) for dessert, with wedding cupcakes, the recipe to which will follow in due course.
The quoted cost per head was $23.00, for an estimated 120 people, and we provided the tamari to be used as the soy sauce substitute.
A week before the wedding, there was some discussion that the mock meat being used in Perth might not be vegan. To avoid any confusion, my mother spoke to the owner, being very specific about whey being on the ingredient lists for any of the meats, and in the end was confident that the only mock meat being used for the wedding was vegan.
On the day, L and M went to collect the food, but due to a mix up no payment had been made. This problem in payment was perhaps our problem for not following it up in advance, but also the restaurant's problem, as they had known in advance that a third party would be collecting the food.
The noodles and the rice, which were supposed to be gluten free, turned up with fake meat in them, rendering them potentially harmful to coeliacs.
These technical hitches aside, the food was excellent, to the point that many omniverous and vego friends alike asked for the restaurant's details. The curry especially had a brilliant flavour, though it was very spicy. In hindsight, the dishes should have been reordered so the curry was followed by the rice.
Lotus provided the food only, serving etc was performed most excellently by L + M, and a few other acquaintances that we enlisted (and paid).
Overall, the food from Lotus, cooked to order, was excellent, but I would only recommend them as caterers if you speak Cantonese and remember to work it all out beforehand, or if you don't wish to change or substitute ingredients at all.
If you are going to the restaurant, I recommend ordering off the menu, rather than taking the buffet - it's always really tasty.
Lotus Vegetarian Restaurant
U1+2, 220 James Street
Northbridge