Confused, we wandered around the base of this smooth office building. Eventually we asked the security guard, and he directed us to the fifth floor, where the lift doors opened to an immaculate restaurant. "Is this it?" D asked. In answer, I pointed to the Buddha by the front door, and we wandered in.
Our waiter didn't speak English, so D was forced to rely upon me for translating, and couldn't resort to his usual trick of asking the waiter for his favourites, to help in deciding. We ordered the olive rice, some satay, something with mushrooms and, based on the advice of the internet, the crispy fried pumpkin roll. The latter was a delightful mixture of textures and flavours, some sort of pumpkin puree wrapped in rice noodles and then fried. The satay was a tasty combination of mock meats and vegetables, and the rice and mushrooms were also quite good.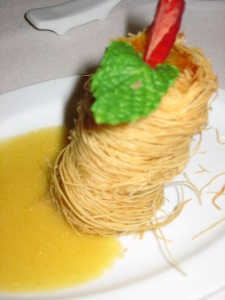 Overall the experience was very enjoyable, I would certainly return.
Ling Zhi Vegetarian Restaurant
541 Orchard Road
#05-01 Liat Towers
Singapore