There are many habits for which my mother would scold me: in this particular instance, I am referring to my use of pre-prepared stock. I love, on cold afternoons, to set vegetables to boiling on the stove, filling the house with the smell of stock and the warmth from my kitchen. My mother making stock, long afternoons with the smell permeating the house, is a constant from my childhood.
My mother would use the stock for many things, for curries and rice and for various soups; but this here is my favourite. This is my comfort food, what I eat when I am ill, or when I am sad, or when it is cold and stormy outside. Sometimes, though, I just want to eat it because it is my favourite, and it is at these times that I cheat and use a packet stock. I use the Massel cubes, as they are vegan and gluten-free.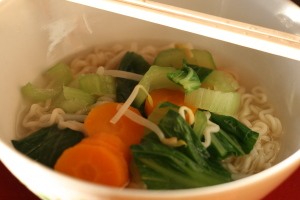 very simple noodle soupingredients:
4-5 cups vege stock
1 carrot (sliced into thin circles)
2 bok choy (stem sliced widthways; leaves chopped in half)
various other vegies prepared appropriately
noodles of choice (I like to use rice noodles, or the instant noodles like you get in indomie)
method:
Set the stock to boiling; add the carrots, and leave to simmer for ten minutes. Add the sliced bok choy stems and simmer for another little while (about ten minutes, maybe a little less). Continue adding vegetables as appropriate. At the same time, cook the noodles. Finally add the bok choy leaves, blanch, and add the cooked noodles to the broth just for thirty seconds. I usually like to add some bean shoots at the same time. Serve, and smother in soy sauce.