My friend
Sara-Jane
is on the Great Australian Bake Off, so despite my usual reluctance to watch tv I wrote it in my diary, and Tuesday at 8pm found me watching commercial tv with ads and everything.
This first episode included the challenge 'signature cupcake', which, who has a signature cupcake? If you have one, let me know, because I've never heard of anyone having a signature cupcake. Signature cake, sure (berry and dark chocolate double layer cake, thanks). But signature cupcake?
So I made one up. And went shopping for ingredients at 10pm, after the show finished.
Ginger and Chinese Five Spice Cupcakes with Lemon Icing
Someone referred to the
ginger and chinese five spice biscuits
I bake basically once a week as my 'signature cookies' about two weeks ago, and it's what my mind drifted to when I was considering what would be my signature cupcake.
what you need: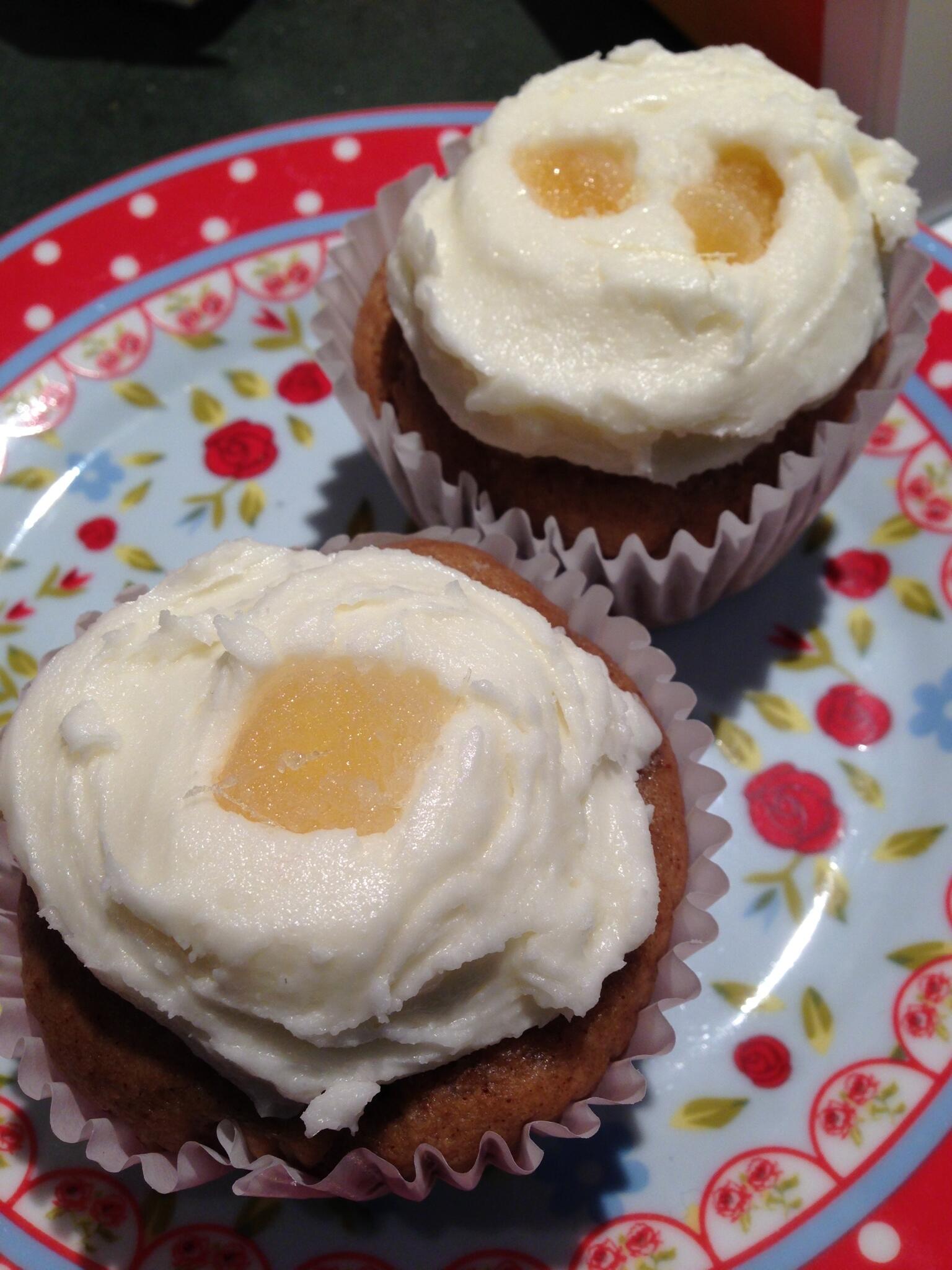 photo stolen from SJ
2 heaped cups of SR flour
3/4 cups of brown sugar
1 tsp baking powder
3 tbl ground ginger
2 tbl chinese 5 spice
3/4 cup milk
150g margarine
2 tbl light agave or golden syrup
2 chinese soup spoons of apple sauce
1 tsp vanilla essence
handful of crystallised ginger
for the icing
more crystallised ginger (not heaps)
300g icing sugar
2 tsp lemon juice
1/2 tsp vanilla essence
140g marg
what you do:
Oven: 190C
Melt together the margarine, sugar and golden syrup over a low heat. Allow to just melt, then cool a little, before adding in the milk and the vanilla essence. Follow this with the apple sauce and combine. Sift together the flour, baking powder, ginger and five spice. Mix into the liquid until just combined.
Into lined/greased cupcake pans, spoon a base, and insert one piece of crystallised ginger (i make them smaller), then cover with more batter. Continue until you've got all your cupcakes.
Bake for about 20 minutes, then allow to cool on a rack.
Icing: beat together all the icing ingredients except for the crystallised ginger. When the cupcakes are cool, then ice. Chop up the ginger so it's tiny and sprinkle on top.